As you shop for back to school, please be aware of the school's dress code. No hats to be worn in any building. All shorts and dresses must be no more than 3 inches from the knee. No sleeveless shirts. No holes in jeans or shorts. Tops over leggings should be no more than 3 inches from the knee. No offensive logos or language on clothing. For more details see the Code of Conduct on the CCS website or in the document section of this website.
PHS Apparel Online Store Launches
We're proud to announce the official laun
ch of the Pleasant Home Sideline Store from BSN!
This online store will be available year round and will have monthly promotions, including a 25% off grand opening deal that will run through October 15th. Use the code SPIRIT21 at checkout for the current discount.
All items listed on the store are in stock and will ship directly to your home within around 2 weeks of your order. Our athletic programs will get back 10% from BSN for all items purchased.
You are able to customize almost anything on the website to make your own unique Pleasant Home items.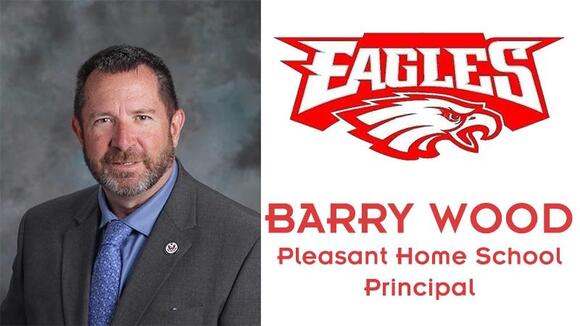 The Covington County Board of Education approved Barry Wood as the next principal for Pleasant Home School at a special called meeting Wednesday, June 14.
Wood recently retired after 28 years of service in the United States Navy as a senior chief petty officer. He is a 1988 Straughn High School alumnus and a lifelong resident of Covington County.
"I've been blessed to serve in several great schools throughout my career. To have the opportunity to return to Covington County and serve the students, teachers, and staff of Pleasant Home is both incredibly humbling and rewarding. In years past, I had the good fortune of working with, and in some cases teaching, several of the Pleasant Home staff members and parents. These experiences afforded me a clear understanding of what makes Pleasant Home such a special place," Wood said.
His administrative experience began in 2012 as the assistant principal at Red Level High School. He then spent the following year in Kabul, Afghanistan, with the Navy Reserve Seabees. Upon returning from duty, he served as the accreditation coordinator of Covington County Schools and was the assistant principal at Straughn Elementary and Middle Schools.
Wood returns to Covington County after spending the last four years in Brewton.
"It's always good to come home, and in this case, to Pleasant Home. I'm very thankful to the CCS Board of Education and Superintendent Shannon Driver for allowing me the opportunity to serve in my community again and work with the many talented administrators, teachers, and staff of Covington County Schools. I'm also grateful to Brewton City Schools and their superintendent, Dr. Varner, for the incredible opportunity I had to serve as principal of Brewton Elementary School. The students, faculty, and staff of BES will forever hold a special place in my heart. I believe the four years I spent there helped to prepare me for this next chapter of my career," he said.
Wood stated his main goal at PHS would be to unite the school and build a culture of high expectations.
"Whether a student, staff member, or administrator, we will strive to be better today than we were yesterday. We will adopt that growth mindset in everything we do. The areas where we are good at PHS, we will work to become great, and where we believe we are great, we will work to become better. We will be passionate about our profession and the tremendous opportunity we have been afforded as educators. We have but a short time to make a difference in the lives of our students, and our goal should be to use that critical window to its fullest extent. At Pleasant Home School, we will lead, teach, and learn from a foundation of character: doing what is right because it's the right thing to do."
He has a total of 19 years in education with 11 in administration. Woods holds a bachelor's degree in Middle Grades Mathematics from the University of West Florida and a master's degree in Instructional Leadership from Troy University.
"The support from my family and friends means everything. My wife and my girls are the driving force in my life, and they are very excited to have me closer to home. The outreach from the Pleasant Home community has been very positive, and I look forward to building relationships that will last a lifetime. I'm excited to be a part of the Eagles family."
He is married to his high school sweetheart of 31 years, Jan Wood. They are the parents of three daughters: Jordan, Reagan, and Lauren. Jordan teaches science at Straughn High School and is married to Ethan Stonecipher, an engineer at Shaw Industries. Reagan will be a sophomore at LBWCC in the fall, and Lauren will be a freshman at SHS.
Pleasant Home School will introduce Wood to the community during a "Meet the Principal" event on Wednesday, July 12, from 8 until 11 a.m. For more information call the school office at 334-222-1315.
The post appeared first on in Andalusia Star News.